FOR IMMEDIATE RELEASE

Appointment of HKFEC's Board Committee
On 1 Dec 2015, Hong Kong Federation of E-Commerce (HKFEC) is pleased to announce that Mr. Tony Wong, co-founder and CEO of Shopline has accepted our appointment for HKFEC's Board Committee.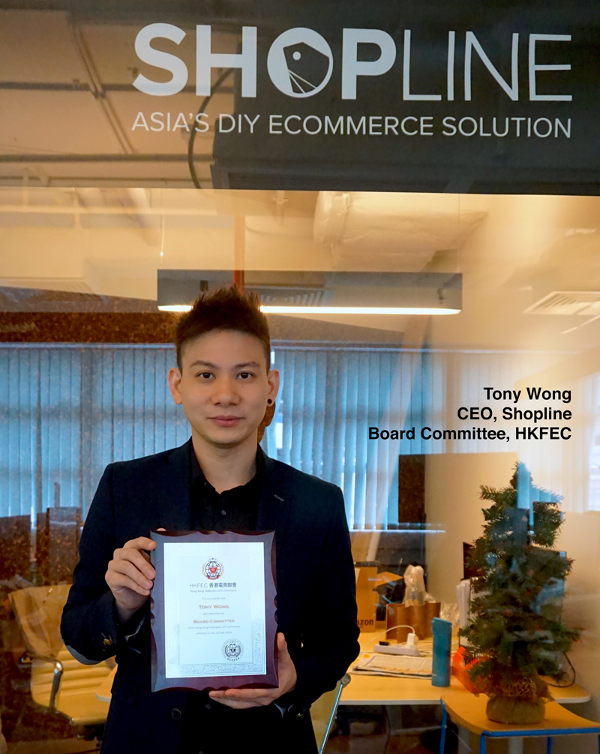 Tony is a 2x serial entrepreneur, experienced product manager and full stack developer. Before founding Shopline, he has managed high profile projects in media and E-commerce industries such as TVB and Next Media. He has 1 exit under his belt (Viss app).
By founding Shopline, Tony's goal is to empower small businesses in Asia with simple-to-use tools that complement the way they do business, allowing them to succeed in online. He grew the team from 3 to 30 within one year and built a strong product with an agile development team, powering thousands of merchants to achieve their own entrepreneurial dreams. Tony also led the team into 500 startups accelerator in Silicon Valley, which is a huge achievement as Shopline is the second team to be accepted so far from Hong Kong. Having lived in Latin America, South East Asia and North America, Tony brings diversity and global insights to Shopline's startup culture.
Tony, with his background and professional skills, is delighted to share his thoughts and ideas in the E-commerce industry.
Please join me to give the warmest welcome for Tony to be our new member!
Joseph Yuen
Board Chairman, HKFEC