Immediate Release


Global Sources Exhibitions
Date: 11 - 30 October
Venure: Asia World-Expo, Hong Kong
Visit Global Sources Exhibitions this October to source the latest, most in-demand and emerging products. Categories include consumer electronics, AR/VR, mobile electronics, gifts, home products and fashion. 100% of the exhibitors are Verified Suppliers and many accept small orders to provide more versatile sourcing options.

•

Consumer Electronics (October 11–14)




3,800 booths of home, outdoor, auto electronics — with gaming, smart living, components, computer products

•

Mobile Electronics (October 18–21)




3,700 booths of devices, VR/AR, wearables and accessories – the world's biggest mobile sourcing show, with Startup Launchpad, Asia's biggest gathering of electronics startups

•

NEW

Lifestyle (October 27–30)




Creative, curated and innovative gifts, premiums & home products

•

Fashion (October 27–30)




Source on-trend accessories, fabrics and apparel – at Hong Kong's largest fashion trade fair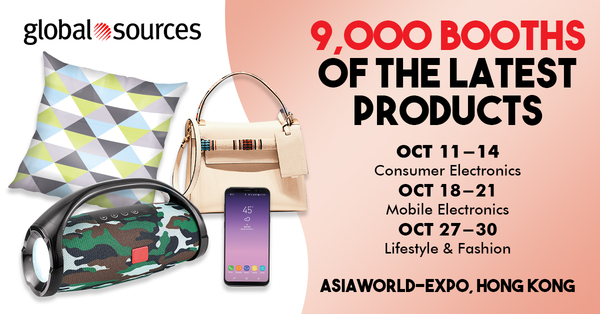 General Information
Date: 11 - 30 October, 2018
Time: 9am - 6pm
Venue: Asia World-Expo, Hong Kong
Standard Fee: Complimentary
Exclusive Offer: Free Octopus card with HK$100 stored-value, free Transportation to the show venue
More Information:
Registration:
kindly email name, job title, compnay, contact to keith@hkfec.org.
For any queries, please do not hesitate contact to Global Sources Exhibitions at association@globalsources.com or contact us at keith@hkfec.org.