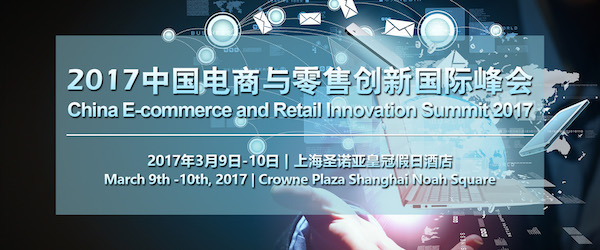 China Ecommerce andRetail Innovation Summit 2017
"China Ecommerce andRetail Innovation Summit 2017" which will be held in Crowne Plaza Shanghai NoahSquare on March 9-10, 2017.
Accordingto relevant reports, in 2015, China's online retail market totalled 3.8trillion yuan, up by 35.7% on Y-o-Y basis, accounting for up to 13.5% in totalretail amount. And it is estimated that by 2020, its penetration rate willexpand further to 22%, with total value approaching 10 trillion yuan.
As Internet andmobile shopping become more mature and developed, Chinese consumers are becomingincreasingly "fastidious", China's retail market is also evolving frome-commerce multi-channel toward the transformation of online and offline Cross-channel,and one end to multiple-end digitalized Omni-channel. Meanwhile, with thesoftware-hardware integration of smart device, trends of digitalizationemphasis and service oriented merchandise, social networking + e-commercecombination are attracting high level of concern.
With thetheme of "Use the big data and internet technology , explore the New Retail offuture", this conference is aims at providing a platform for brands, retailers,e-commerce platforms, consulting companies and servicer in China to ensure themto communicate face-to-face. Discussions towards some of the latest topics, includingconsumer Insight, channel integration, technology innovation, supply chain, areposed in the creation of a successful developmental pathfor Chinese new retail industry in the future.
ChinaEcommerce and Retail Innovation Summit 2017:
Ø WonderfulSpeeches by the Executives of Well-known relative Enterprises
Ø 150+ Retail,Brands, service provider and Relative Enterprises at Home and Abroad
This forum will focus on the hot topics as below:
Ø Transformation and Innovation in China's E-commerceand Retail Strategy
Ø Analysis of Chinese Consumer Behaviors andInterpreting Innovative Consumption Habits
Ø Driven by Consumption and Technology, Developingthe Multiple Channel Sales Pathway in the future
Ø Cross-border E-commerce——Challenges andOpportunities of "Worldwide Purchase"
Ø Creating Well-developed Rural E-commerce Eco-circle
Ø Transition in Digital Business Model of FashionRetail C2M
Ø In the Age of Internet, Creating "IntegratedProduct and Sales, Channel Co-creation"
Ø Group Discussion: In the Age of Business Internet,How Retailers Can Accomplish Online and offline Integration
Ø Cross-channel Integration in the Tide ofDigitalization of Luxury Brands
Ø Unique-commerce Solutions in the Age of DigitalizedOmni Channel Retail
Ø Closely Following Consumer Pulse, Deployment inRetail Business from Wireless to Multiple Ends
Ø Omni -Channel Customer Relation Management in theAge of Big Data
Ø The Strategy & Tactics for Digitalized Paymentand E-commerce Integration
Ø Challenges Brought by Cross-channel Integration toLogistics
Ø Socialized Consumer Innovation in China'sE-commerce and Retail Sales Pathway
Ø E-commerce+ Live Broadcasting, Innovative RetailSales Pathway
Ø In the Age of Mobile Internet, Innovative SalesStrategy for Digital Service Type Merchandise
Ø How to Create Ultimate Customer Experience byLeveraging the Core Power of Big Date
More details, please visit ECV's official website:
China Ecommerce and Retail Innovation Summit 2017: http://ecvinternational.com/2017echinaretail/
For inquiries, please contact Ms Charlotte Shong : 2326 2468