FOR IMMEDIATE RELEASE

Appointment of HKFEC's Philippines Market Advisor
On 3rd December 2016, Hong Kong Federation of E-Commerce (HKFEC) is pleased to announce that Mr. Bjorn R. Pardo, President of Digital Commerce Association of the Philippines (DCOM), Founder and CEO of Xend, has accepted our appointment for HKFEC's Philippines Market Advisor.
Mr. Pardo With over a decade of experience in eCommerce and logistics, Bjorn Pardo is the founder and CEO of Xend, the innovator of eCommerce logistics technology in the Philippines. He also serves as the President of the Digital Commerce Association of the Philippines (DCOM).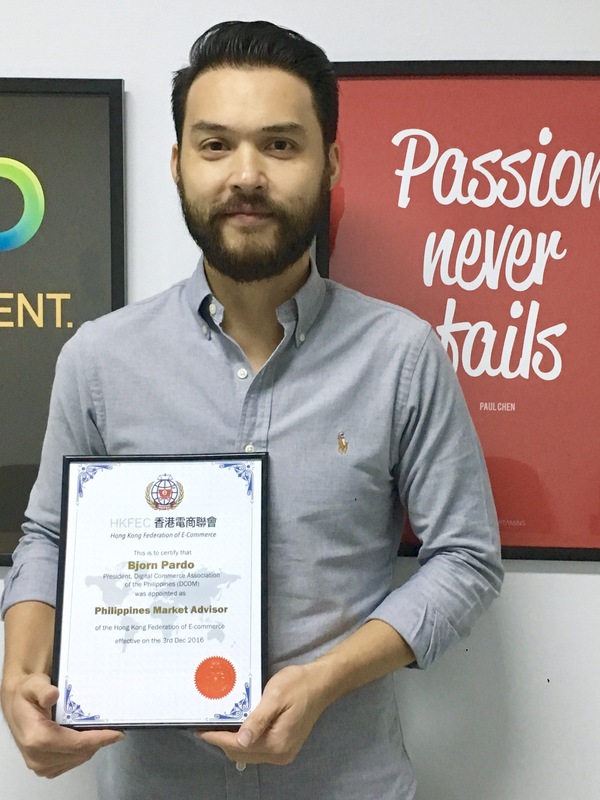 Fascinated by eCommerce at the height of the dot com boom, Bjorn started selling online as a teenager, eventually becoming an eBay powerseller with over US$100k in revenue. The realization of the challenges of fulfillment and his passion for eCommerce and technology propelled him to build Xend in 2004, laying the groundwork to make shipping easy and affordable. Bjorn's pioneering technology contributions help bring a global competitive edge to the Filipino entrepreneur. He continues to build, innovate and improve the experience for the digital commerce market including Xend's 250k+ entrepreneurs and millions of buyer.
Mr. Pardo with his intensive background for E-Commerce and logistics industry, he is definitely a good leader to share his success to Hong Kong's E-Commerce market. In his capacity in HKFEC, he will actively provide communication channel for E-commerce news and activities from Philippines to Hong Kong. And for those HKFEC members who are interested to develop in Philippines market, in particular in eCommece and Logistics industry, Mr. Pardo will be a starting point for them at HKFEC.
Please join me to give the warmest welcome for Mr. Pardo to be our new member!
Joseph Yuen
Board Chairman, HKFEC