FOR IMMEDIATE RELEASE
Appointment of HKFEC's Board Committee
On 11 May 2016, Hong Kong Federation of E-Commerce (HKFEC) is pleased to announce that Mr. Tat Lee, General Manager of WeLend Ltd. has accepted our appointment for HKFEC's Board Committee.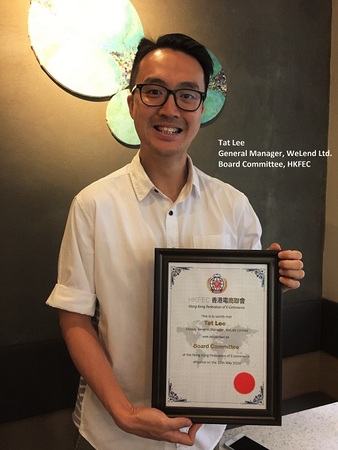 Tat is General Manager of WeLend Ltd, one of the founding members and he was the head of Product and Risk of WeLab HK. Tat oversees all the risk functions including Credit Risk, Fraud Risk, Compliance Risk and Legal Risk etc. On top of the risk functions, Tat is also responsible for improving the lending product and be in charge ofthe product strategy for WeLab.
Tatwas graduated in University of Science and Technology, he has been in management position in HSBC and Standard Chartered Bank Hong Kong in the past few years.
Tat, with his background and professional skills, is delighted to share his thoughts and ideas in the E-commerce industry.
Please join me to give the warmest welcome for Tat to be our new member!
Joseph Yuen
Board Chairman, HKFEC